Platinum Jubilee Celebrations. Festivities to mark the platinum jubilee of Queen Elizabeth ll on Thursday 2nd May 2022.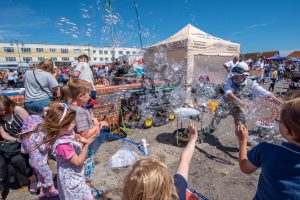 Thousands enjoyed the sun and entertainment on the seafront at Lee on the Solent.
Road closures meant Marine Parade became the venue for one of the biggest 'street parties' in the south.
Acts included Believe A Bubble, Hoop Ballerinas, Balloon and Stilt Man, Punch and Judy, Live Music, HMS Sultan march and the lighting of a beacon to mark 70 years of reign by Queen Elizabeth ll
Click on any thumbnail below to view the images in a carousel.