A lot packed into a small space looked after by a dedicated team of volenteers!
Very interesting collection of aviation exhibits and memorabilia  suited for enthusiasts young and old.
Given the history of aviation in and around Southampton clearly the local authority should be promoting/funding the Solent Sky Museum more than they appear to.
The Gosport Aircraft Company
A boat builder to take advantage of wartime demand for flying boats during the First World War as the Gosport based firm of Camper and Nicholson. The Gosport Aircraft Company was formed to build flying boats both at Gosport and at Northam on the River Itchen in Southampton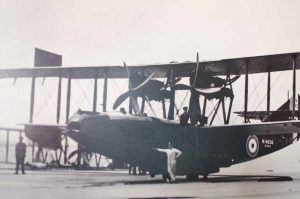 The firm built a number of 'FBA' and 'Felixstowe F5' flying boats for the Royal Naval Air Service. In 1918 they designed and built the hull for one of the three giant Fairey N4 Atlanta flying boats which was completed wings built by Phoenix Dyramo at Bradford in the Midlands.
After the war Gosport Aircraft Co. advertised a number of designs for flying boats, but the only machine actually produced was a civil conversion of an ex-RAF Felixstowe flying boat used for demonstration as the 'Gosport Flying Boat'
Rocket Fighters
In the late 1950s SARO developed a series of rocket powered fighters which were destined to become redundant by a change in Government policy.

Saunders-Roe started designing a rocket powered fighter in 1951 even though the Ministry had neglected to invite them to tender for the contract.
SR.53 was the first version, it was a single-seat interceptor powered by a de Havilland Spectre rocket engine for take-off and combat and a Viper engine for cruise. The intended armament was two Blue Jay infra-red guided air-to-air missiles.

The first prototype flew from Boscombe Down in 1957 and it demonstrated a performance which included a time of 3.3 min from brakes-off to 60,000 feet!