Plastic Pollution
Please follow the link the the Surfers Against Sewage website to see how you can help reduce plastic waste.
The gallery below shows just some of the 5000 items of marine plastic pollution per mile of beach in the UK
This stuff is used for seconds and then ditched but never degrades.
Plastic pollution involves the accumulation of plastic products in the environment that adversely affects wildlife, wildlife habitat, or humans.
Plastics that act as pollutants are categorized into micro-, meso-, or macrodebris, based on size.
The prominence of plastic waste is correlated with plastics being inexpensive and durable This lends to high levels of plastics used by humans. However, it is slow to degrade.
Plastics can unfavourably affect lands, waterways and oceans. Living organisms, particularly marine animals, can also be affected through entanglement, direct ingestion of plastic waste, or through exposure to chemicals within plastics that cause interruptions in biological functions.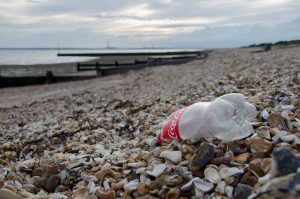 Humans are also affected by plastic pollution, such as through the disruption of the thyroid hormone axis or hormone levels.
Plastic reduction efforts have occurred in some areas in attempts to reduce plastic consumption and pollution and promote plastic recycling. Source Wikipedia