Update 26/04/2019: Bridge to remain with a revised junction
The 1km Eclipse busway extension to the existing route will be from the Tichborne Way / Hutfield Link south to form a new junction with Rowner Road, maintaining the existing shared use footway / cycleway from Hutfield Link to Rowner Road.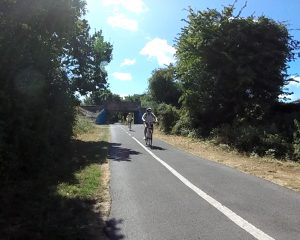 While this sounds good news, the downside is that the excellent existing shared pedestrain   and cycle path (also designated a safe route to school) from the Hutfield Link to Rowner road will  be squeezed in with the bus route.
The bridge at the new junction will be demolished with the loss of the underpass and the perfect seperation arrangement of pedestrains and cyclists from traffic on the B3334
Pedestrains and cyclists (whom the Govement is championing under the guise of Active Travel) will be will be pushed down the pecking order, at odds with The Manual for Streets
According to the Active Travel briefing The Manual for Streets changed the government's approach to the design and provision of residential and other streets.
This includes a hierarchy of provision that puts walking and cycling at the top, and following its principles can help design places that encourage active travel.
The Eclipse Busway has gone as far as possible.